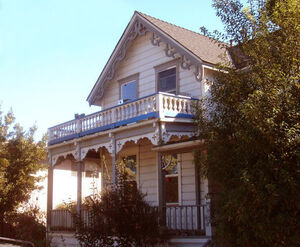 Zami haus! is a member of SCSHC (Santa Cruz Student Housing Co-operative), a 501(c)3 non-profit, and NASCO (North American Students of Cooperation) located in Santa Cruz, Ca. The property features two 2-story houses, a large backyard, and at times features benefit shows for punk, hardcore, and ska bands. Some of those featured include ESP, Kimya Dawson, and The Most.
Basically, we are a housing cooperative with 12-16 members at any given time. We try to maintain the house as a safer space and autonomous zone, free of animal products (we're vegan, baby! not really), hierarchy, oppression and cops. We host a wide variety of shows from hardcore, thrash, and punk, to pop-punk, folk, and spoken word. Frequencey of chows is dependent upon the weather (summer-time means bi-monthly plus, shows)and other events scheduled (free-skool classes, dance parties and benefit shows).
If you're interested in having a venue for your show just give us a call or email. It's preferable if you've already got a line-up and will make it more likely that you'll actually get to play. If you are a lone band on tour or just can't find some peeps to play with give us a shout anyway, maybe we can help you pull something together.
Zami! Strives to be a safe space. We do not accept white supremacism, racism, homophobia, classism, anti-semitism, transphobia, sexism, ableism or any other oppressive shit in language, action, dress or lyrics. We are here to create an autonomous space free of oppression and fear.
If you're down with the above statement we are down with you!!!
Contact:
807 Laurel St. Santa Cruz CA 95060 zamtown@gmail.com
http://zamicoop.wordpress.com/
http://en.wikipedia.org/wiki/Santa_Cruz_Student_Housing_Co-opsasco
Community content is available under
CC-BY-SA
unless otherwise noted.