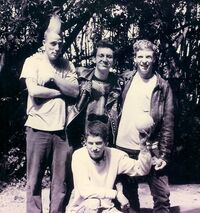 Vicious Midgets started around 1986 with Tim and Debbie who moved up from San Diego. Rick sang, Nikos on bass, Debbie on drums, and Tim on guitar. Bob Sausage came in later as backup guitar. The band got support from the gutter punks. After playing many parties and a few promoted shows in town, Tim and Debbie moved to Seatle. The band then got Jade Dylan on drums, and Brian Gilliam on guitar. More gigs were played including the Gillman, Vets Hall and Senior Center. A demo submitted to Maximum Rock and Roll gave a good review. The band specialized in 70's sounding punk i.e. New York Dolls, Dead Boys and the Stooges, with a lots of fast tempo songs to keep the pit happy. Nikos quit the band,sort of. They got Devin Quinn as bassist. Rick ended up being the only surviving original S.C. member, but the bands newer members made it a better sounding band. Brian graduated sound school. Jade played with Spaceboy,did international tours with Link Wray,moved to N.Y.,does a solo band called Miracleofbirth. The band continued to gig at bar shows untill at least 2002.
They reformed in Santa Cruz, California 2009 for a show at the Blue Lagoon Bar on Pacific Ave, and may be returning jan 2 2010
Brian passed away in April of 2012. He is sorely missed.
Community content is available under
CC-BY-SA
unless otherwise noted.