The Willies were a Santa Cruz punk band (1995-1997) consisting of Jeff Solomon (vox), Garrett Baldwin (Guitar), Nick Handley (Drums), Chet JR White (Bass), and Morgan Mueller (Guitar).
This band was the brain-child of Nick and Jeff who came up with the (unoriginal) name of the band while sucking on Everlasting Gobstoppers during PE class at San Lorenzo Valley High School as sophomores during the Spring of 1995. Within a week of the Gobstopper incident, the band had its first practice (featuring Jeff and Garrett on guitar, Nick on drums, JR on bass, and a dude named Justin on vocals), recorded its first demo tape, kicked out its lead singer (that dude, Justin), hired and fired a second lead singer (Morgan Scarborough), and recorded its second demo with Garrett as its new vocalist.
The band's first public showcase took place during lunch at the neighboring Junior High School. The Willies were such a hit with the local tweensters that they tried their luck a week later, performing during lunch in the high school quad… After a severe pelting of limp cafeteria chicken sandwiches, the band decided to make a crucial change. Jeff put down the guitar (of which he was no hero), and was assigned to the role as the new lead singer (that's 4 if you're counting).
In the Summer of 1995, The Willies recorded their third demo at On the Right Track Recordings (Felton, CA), featuring the pop punk hits; "Karate Girl" and "All Alone", and played their first paying gig at the Red Room in Santa Cruz for Zero Dollars with Clodhopper.
During the next year The Willies hired a second Guitar player (Morgan Mueller), recorded two more demos (at Solo Sound and On the Right Track) featuring such classics as "No Fear Posse" and "Clear", and played a myriad of shows throughout northern California with the likes of Good Riddance, Fury 66, Screw 32, Tilt, Youth Brigade, Naked Aggression, Youth Riot, The Invisibles, Stinkaholic, Weston, Doc Hopper, L.I.F.E., Reliance, Illiterate, Diversion, JetLag, Panda Bear Greens, and Static (among others).
Although the Willies continued to make music throughout the school year of 1996-1997, the stress of high school graduation, girlfriends, and growing up, put a strain on the band. Their final show was in the basement of the Santa Cruz Vet's Hall with Tilt and Youth Brigade during the Summer of 1996.
Today; Morgan is the Executave Chef at Jardiniere in San Francisco, Garrett is a Web Designer and plays bass for the pop punk band Brookhurst in Los Angeles, JR is a member of the band Girls in San Francisco, Nick sings, plays guitar, and DJ's for Santa Cruz Live Music and DJ (he also runs the place), and Jeff is a High School Biology Teacher and blogs for Stay Rad: A blog about wine and all things awesome.
They All Still Rule!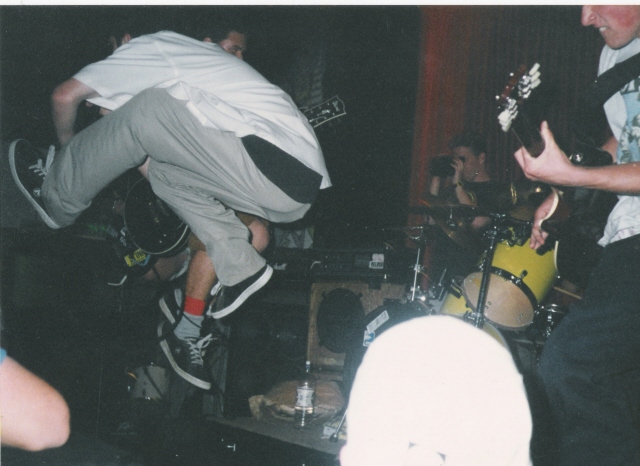 Community content is available under
CC-BY-SA
unless otherwise noted.