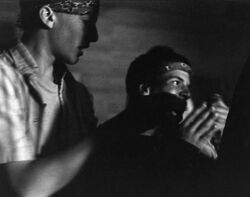 The original Warehouse was a small industrial space on Coral Street, near Harvey West Blvd. Dave Julienne, a local artist/designer who was a friend of Soave Loco of The Scapegoats, held the lease on the space and used it to make T-shirts -- most of the time.
Two parties and two full-blown punk gigs were held at the Warehouse. Around May of 1980, The Surf Pistols and The Satellites played at a party. Another party on December 23, 1980, featured The Spikes (who had relocated to San Francisco and hadn't appeared in Santa Cruz in nearly a year), The Prisoners, and The Scapegoats in their debut appearance.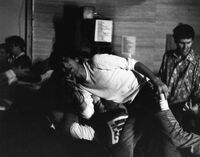 On February 21, 1981, Black Flag appeared at the Warehouse, along with Flipper and The Scapegoats. A story had just been published in BAM (the Bay Area Music paper) headlined "Black Flag Violence Must Stop!" so Soave Loco, himself a karate teacher, brought in six additional martial artists as security. The gig happened without incident.
On April 12, 1981, The Circle Jerks appeared. The Adolescents (from L.A.) had been advertised as well but reneged at the last minute. In their stead, a slew of Bay Area bands showed up unannounced and played, including The Spikes, Crucifix, A.L.A., and Revenge (later known as Free Beer). The Scapegoats also played, as did Skin a Dog -- the first appearance of the band that would come to be known as the Young Alcoholics. Some sort of a threat was called in that day, possibly by another band with a vendetta against the Circle Jerks, and Dave Julienne balked at opening the space when it was time for the gig. Fans and band members alike gathered outside, and the tension grew. "If there's no gig," said Greg Hetson of the Circle Jerks matter-of-factly, "there's gonna be a riot." Soave Loco arrived with two attack-trained Dobermans in his vehicle. Finally Dave relented and opened the space, and again, the gig happened without incident.
Community content is available under
CC-BY-SA
unless otherwise noted.