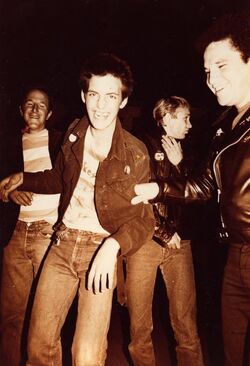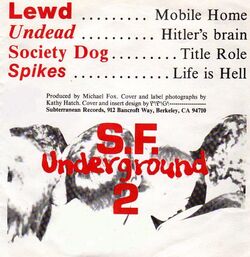 The Spikes were a Santa Cruz punk band, including Dave Delinquent (vox), Vic Drano (guitar), Steve Stifle (bass), and Jeff X (drums). They played a few shows in Santa Cruz in 1979 and then moved to San Francisco. Dave's stage antics (which often involved his own blood) caused the Spikes to be banned from most venues, so they mostly played parties. But they made two appearances at The Warehouse (Coral Street), in December 1980 and April 1981.
There was also a period in mid-1980 when the group attempted to re-form without Dave as The Box. Two different lead singers were used at various times.
Discography
Edit
"Little miss soci" - song I remember
"No more disco" - song i remember
"Life is Hell" appeared on S.F. Underground 2 EP on Subterranean label
You might be able to hear the classic slow norcal punk sound on this mp3 of Life Is Hell.
http://www.7inchpunk.com/wp-content/Spikes_LifeIsHell.mp3 00:55, September 8, 2010 (UTC)68.165.3.179Hi this Vic Drano we sarted the punk rock music revolution in San Francisco at the same time The Sex Pistols came out If anyone want a a copy of the spikes music just email vktormedina@yahoo.com
R.I.P. Dave Delinquent.
Community content is available under
CC-BY-SA
unless otherwise noted.