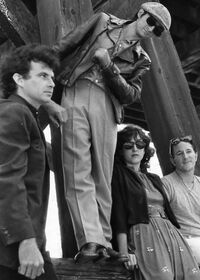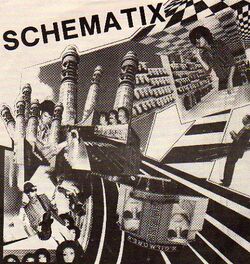 The Schematix formed in 1979 as the X-Dreamists. Original members were Jill Fido (keyboards), Debby Dread (guitar), Mike Melee (guitar), Marco Misterioso (bass), and Jeff X (drums). The band had a radical political stance and a riff-driven old-school punk sound.
Debby Dread left for London at the end of 1979, and Jeff X joined The Spikes. Harris Harris became the new drummer, their name was changed to the Schematix, and the band became a steady presence in the Santa Cruz underground scene. They gigged frequently at smaller venues like Santa Cruz Art Center (where nearly 150 people showed up for their record-release party in 1981), at UCSC, and in San Francisco. They once headlined at the Hong Kong Cafe in Los Angeles.
At one point, the Schematix, The Spikes, the Small Nambas and Real Music all rehearsed in the same house.
Harris left the band and an endless procession of drummers ensued, including Joey Peters, Jeff X (who rejoined briefly), and Richie (of the Child Prostitutes), and Jay Wilson. Alan Korn later played bass. They finally disbanded in 1983, with Jill moving on to The Holy Sisters of the Gaga Dada.
Song titles included "Jagged Edge," "Conspiracy of Fun," "Too Dead," and "Nothing Special."
Discography
Edit
External links
Edit
Community content is available under
CC-BY-SA
unless otherwise noted.