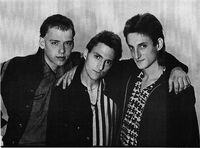 The Satellites were a Santa Cruz new wave band (1979 - 1980) consisting of Phil Thril (guitar/vox), Henry Hample (bass/vox), and Charles Bingham (drums).
Phil and Henry joined forces in September 1979 during rehearsals for Angus MacDonald's rock musical "My Country Right or Left," a spoof of local politics that was performed at both Cabrillo College and The Barn. Phil's brother, Charles, moved to Santa Cruz from Louisville, Kentucky at that time. The resulting trio played frequently at Shellie's Too, Santa Cruz Art Center, etc. Their music was described in Scrud as a "new-wavish R&B mix-up."
In the summer of 1980, someone broke into the house where the Satellites were rehearsing and stole $3,000 worth of equipment. A benefit show involving many bands was put on at Thatcher's to raise funds to replace the stolen items.
Charles and Phil were excellent musicians, and this was one of the tightest bands around.
Discography
Edit
Community content is available under
CC-BY-SA
unless otherwise noted.