The Head Dwellers are a homegrown Scotts Valley eclectic band. They were founded by Joshua Augason (bass), Cameron Miller (guitar, vocals), and Travis Stebbins (keyboards, drums, vocals). The band is noted for the variety of their material and their hyper-kinetic live shows.
The band was born circa 2003 by Cameron Miller (guitar), Joshua Augason (bass), Alex Fosgreen (vocals), Travis Stebbins (keyboards) and Kyle Romer (alto saxophone). This original incantation was known as African Government House, and consisted of the band performing Oingo Boingo covers along with a few original songs.
The band performed their first annual Halloween show in 2004, and soon afterwards began making a shift towards writing and performing their own original material. Alex and Kyle left the band durring this period, the latter going on to play with Sloppy Joe And The Lunchables.
The Head Dwellers
Edit
The Head Dwellers have since acquired a extensive repertoire of original material written mainly by Cameron Miller and Travis Stebbins. The song cover a large number of genres such as ska, punk, pop, ethnic, and avant garde.
Live shows by the Head Dwellers are always an energetic experience, featuring much interaction with the crowd and dancing on stage. Audience members are often encouraged to join in on the performance as well.
Anna Wright joined the band on drums for a brief period in 2005, and Travis Cone has joined as lyricist and mandolin player.
The band embarked upon an epic "Indefinite hiatus" in June 2007. Fans should look to Travis Stebbins band F!lter for a beacon of musical insanity/quality.
Looking Sharp
Edit
Look at these sharp chaps here: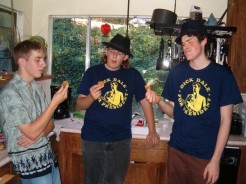 Impressive, eh?

Side projects
Edit
External Links
Edit