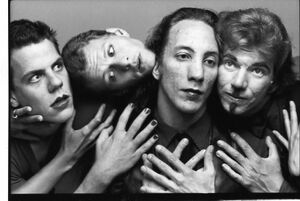 Tao Chemical was a Santa Cruz new age-punk band comprised of Rob Brezsny (a.k.a. Ray Foreplay, a.k.a. Pope Artaud) (vox), Not Michael (guitar), Rick Walker (drums), Bill Walker (guitar), Jim Rutledge (bass), Janet Ring (sound engineering and backing vox), and Marina Shoupe (lighting and stage design).
The quintessential art band, they called themselves "avant-gauche prague rock" and "pagan gospel muzak." They were known for their musical intensity, theatrical stage show, and psychosexual lyrics that seemed intended to provoke everyone, including punks (e.g., "You call me a faggot / But you're homophobic / You don't understand / I'm a lesbian man").
The band had its origins in the late 1970s as Mystery Spot, which soon re-formed as Youth In Asia. Rob, Michael, Rick, and Jim started playing under the name Tao Chemical in late 1979, later softening their sound a bit with the addition of Janet and Bill. A host of offshoot groups -- The Siblings, Not Noise, Tao Rhythmical, Breakfast of Amazons -- suggest the complexity of the Tao "family." Tellingly, even as Tao was holding court at punk venues -- at one point they were banned from Shellie's Too for obscenity -- Rick and Jim continued playing in one of Santa Cruz's top new age bands, led by a singer/dancer named Fantuzzi.
Their manager was Paul Wagner.
There was a Tacoma, Washington band called TAO Chemical Company that was together from 1967 to 1970.
Discography
Edit
External links
Edit
Community content is available under
CC-BY-SA
unless otherwise noted.