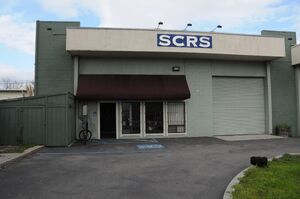 Santa Cruz Rehearsal Studios (SCRS) opened at 118 Coral Street in Harvey West in January, 2010. They built four custom rehearsal studios that are available to rent by the hour.
Studio 1 is 23x13 and includes a full backline for $17/hr.
Studio 2 is 18.5x13 and includes PA System for $15/hr.
Studio 3 is 18.5x13 and includes PA System for $15/hr.
Studio 4 is 15x10 and includes PA System for $13/hr.
Open daily from 10AM - Midnight. The studios started with a 3 hr. minimum on all rooms, but abandoned that rule when they realized many bands only wanted to practice for 2 hrs. and there was no reason to try to force them into 3hrs. The rental fee includes a free 1/2 hr. for load in/out.
Built by the same contractors who built Gadgetbox Recording Studios, SCRC was built using double wall construction, soundproofing insulation and multiple layers of sheet rock applied with acoustic sealant and sound absorbing adhesive. This provides for a highly isolated practice studio with minimal sound interference between rooms. The ceilings in each room are tapered and all studio walls are mounted with acoustic panels to prevent standing waves. The doors of each studio were specially designed and built - they weight over 100 pounds each. There is ground floor load in of all rooms.
Section heading
Edit
Write the second section of your article here.
Community content is available under
CC-BY-SA
unless otherwise noted.