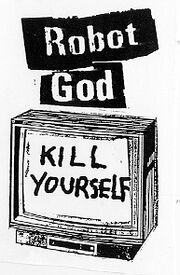 Robotgod (aka RobotGod and Robot God) was a Santa Cruz goth/industrial band that played from 1997 to 2002.
RobotGod's longest playing members were Max Perez (guitar), Brian Rucker (drums), Violet Anna Libey (vocals, bass), and Ken Lomax (keyboard). Previous members included Rodent (vocals), Brad (bass). In 2001 Max left the band and J.J.McCabe (the parcel, Mylo Jenkins, Tether Horse, A Dark and Stormy Night) joined as guitar player
In addition to playing many area bars and clubs, RobotGod was thrilled to get some airplay on commercial radio KMBY, first on their locals music radio show, and then in regular rotation. KZSC was another fantastic radio supporter of the band, hosting them a few times for guest interviews and a live in-studio performance.
in 2001 the band embarked on a six week national tour.
The band self produced two cassette tapes and three CDs.
Community content is available under
CC-BY-SA
unless otherwise noted.