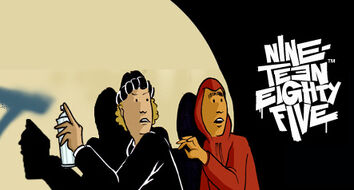 Nineteen Eighty Five is a series of comic books written and illustrated by James Reitano. It's an 8 part series documenting a young graffiti artist in the throes of adolescence, finding himself up against rivals as well as local law enforcement. With a mid-1980's Santa Cruz as it's backdrop, these stories detail a small burgeoning street art scene set in the 80's!
The story is set in a pre-earthquake downtown
Santa Cruz,and features the legendary
Club Culture
, a local all ages club founded by
Richie
, which showcased Bubba G. Scotch, and a host of other local characters.
Community content is available under
CC-BY-SA
unless otherwise noted.