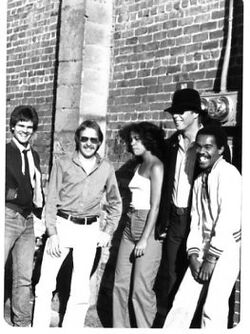 Mighty High was a Santa Cruz reggae/ska band formed in 1978 that frequently intersected with the local new wave scene. Originally a five-piece, the line-up eventually grew to eight members, including Ishmael Huggins (a native of Puerto Rico) (vox), James Thomason (keyboards), Herb Daly (formerly of another local reggae band, the Rastafarians) (guitar), Ron Smith (formerly of yet another local reggae band, Bunny Lion) (guitar), Gil Cadilli (of The Strain) (bass), Charles Bingham (formerly of The Satellites) (drums), Chris Anderson (sax), and Frank Touhey (trumpet).
James originally played guitar. Satellites guitarist Phil Thril also did a brief stint with the band. The original bassist, Leslie Langston, moved to Boston and became a member of Throwing Muses. The original drummer was Mike Strunk.
In addition to covers, the band played originals by James, Phil, Gil, Herb, and Ron at various times.
Community content is available under
CC-BY-SA
unless otherwise noted.