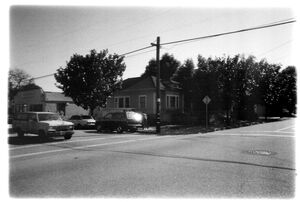 Laurel House (aka Laurel Street, Poopatorium, 305 Laurel, Punk House and Foster Freeze House) was a Santa Cruz venue from 1998 to 2002. It was located at 305 Laurel Street. Listed on Book Your Own Fucking Life website, the house put on many amazing punk shows as well as numerous terrible ones. Members of Pterrordactyl lived there as well as Yaphet Kotto. Each year when people moved out they would make sure that whoever moved in would continue to put on house shows. The venue is no longer in existence because everyone was evicted and the landlords then sold the house, which was then re-sold until there were no more connections to it being a punk house.
Many dance parties ensued, many folks lost their SxE, some British band shot up heroin in the bathroom, a mushroom grew out of the floor, a cat lost one of its legs, a naked male stripper was out-performed, a truck once crashed into the house, the neighbors signed a petition to get everyone evicted, a one-eyed homeless man named "GG Clops" busted his nose open, and many bands and squatters slept on the disease ridden floor.
The first show (it is currentlty thought) was in 1998 with Tragedy and Burn The Remains. The last show was December 2002 with City of Caterpillar, Funeral Diner, and Pterrordactyl.
Notable shows include:
True North, Blood Brothers, Red Light Sting (August 2001)
Pretty Girls Make Graves, Your Enemies Friends, This Machine Kills, Funeral Diner, Miracle Chosuke, OBCD (March 2002)
Under A Dying Sun, Forstella Ford, Lack (Denmark), Bright Calm Blue, Staircase, Off Minor, Life Detecting Coffins, Wolves, The Pine, Pterrordactyl (June 2002-Festival show with vegan BBQ and dance party)
Since By Man, Kill The Slavemaster, 7 Angles 7 Plagues, Iron Lung, Crucial Attack, This Computer Kills (January 2002)
Milemarker, Volume Eleven, Yaphet Kotto (1999)
Neck Tie Party, The Plot To Blow Up The Eiffel Tower, Pterrordactyl (May 2002-picture from this show is on the cover of the Neck Tie Party/TPTBUTET split 7")
Tragedy, Burn The Remains (1998)
Radio 4, Hate Mail Express (October 2000)
Planes Mistaken For Stars (Spring 2000)
Creation is Crucifiction, Funeral Diner, Under A Dying Sun (May 2001, Vegan Potluck Daytime Show)
Fuck God in the Face (?)
The Others (Spring 2000)
Yaphet Kotto, Walken (May 11 2001)
External links
Edit
Community content is available under
CC-BY-SA
unless otherwise noted.