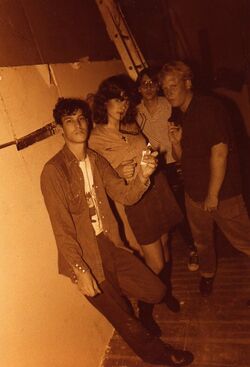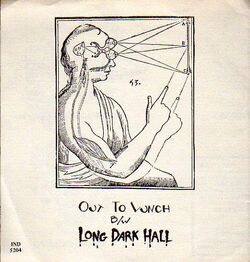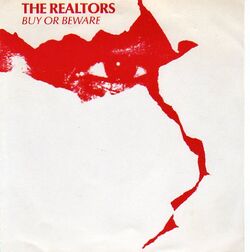 JJ180 was the first punk band (1977-1981) in Santa Cruz. They were comprised of Polio Ferrari (keyboards/vox), Wally Sound (guitar), Tora Brooks (bass) and David Rapaport (drums). Walt McKee also played guitar with the band until 1979. The original line-up included Caker Calloway on drums.
JJ180 was instrumental in bringing San Francisco and Los Angeles punk bands to play in Santa Cruz, including The Dils, The Readymades, The Weirdos and The Offs. They also helped give The Humans their first gigs.
Their music showed elements of punk, new wave, surf, 60s garage, and electronica. Song titles included "Long Dark Hall," "Classroom," "Motor Go" and "Out To Lunch."
They formed in the summer of 1977 and within a month put on the first punk show in Santa Cruz. It occured on September 1 at the Backroom, and was billed as Bar Wars, in which the "kids on the hill" and the "downtown punks" shared the bill. Caker & His Dogs was the other act.
They worked hard at setting up shows, securing venues, making flyers, and making out-of-town bands comfortable.
In September 1979, they changed their names to The Realtors until the National Association of Realtors (NAR) sued them. The letter came in November from Ted Hudson Kordela, the Realtors Protection Coordinator for the NAR. It was Ted's job to keep the word "realtor" for private use of the National Association. The term "realtor" is a collective membership mark that was registered in 1916 by the Association founder, who coined the term. The band was turned in by an unnamed local realtor. Kordela was 19 for 19 in his lawsuits on this matter, so in February 1980, the band changed their name back to JJ180.
The band opened for Iggy Pop in the summer of 1980 at the Catalyst. They also opened for Chris Spedding at the now defunct Keystone-Palo Alto, their last live performance.
They disbanded in 1981.
JJ180 is a fictional, highly addictive, time-distortion drug from a Philip K. Dick novel.
Discography
Edit
"Out to Lunch" b/w "Long Dark Hall" (Indole, August 1978)
EP split: JJ180/Helen Wheels Band/King of Siam - (Go Go 002) (1979)
Buy or Beware EP (as The Realtors (Realty 180))
Waves: An anthology of new music (BOMP: 1979) a track called AR-L7
Soundtrack for Steve Pugh's film Mad Surf Love.
One instrumental song, "Mad Surf Love," on Surf City Underground
2004 marked the release of their first and only LP, Guilt By Association, available exclusively on vinyl from Rave Up Records
2010 Alona's Dream out of Chicago releases 45 RPM of Talk Talk and Classroom both unreleased from Out To Lunch sessions 1978.
http://www.petrosh.it/raveup/index_en.html
External links
Edit
http://www.petrosh.it/raveup/index_en.html
Community content is available under
CC-BY-SA
unless otherwise noted.