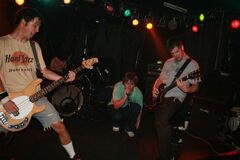 Good Neighbor Policy (GNP) is a homegrown Santa Cruz punk band consisting of Chris Jonsson (guitar), Cory Van Antwerp (drums), Pat Malo (vox), and Eric Cornelius (bass). They are included on the Bombs Over Santa Cruz compilation.
Chris, Cory, and Pat (all from Harbor High) formed GNP in 2003 as a three-piece with no bassist. After playing with a few different bassists (Kalen Dodd, Alan Trybolm, Danny (?)), they met (in late 2003) Eric, who was using the same Aptos pratice space. Eric showed up to his first GNP practice with a broken arm from skating, a Misfits shirt, and pink shoelaces. Eric had attended Santa Cruz High. There have been no permanent personnel changes since then. A few shows, however, Eric was not present, one time because he was a victim of a road rage incident which left him with a concussion and many stitches.
They played their first show at the Aptos Club on April 20, 2004. They have since played countless local shows with local and national touring acts including such notable namedrops as Youth Brigade, MDC, Battalion of Saints, Time Again, Love=Death, The Cliftons, Angry Samoans, Los Dryheavers, Instant Asshole, Circle One, Decry, Set Your Goals, The Wrath, Arsonists Get All the Girls, At Risk, Creep Division, Municipal Waste and more. GNP has played all over the West Coast and in March/April of 2008, GNP did a 7 date sold out tour in Japan (seriously) with U.K.L. and Ellegarden (the reason for the sell outs) and was very well received. GNP will most likely release a record and tour in Japan more often in the near future.
Before selecting the name Good Neighbor Policy, the band went through many name changes, such as Pity the Fool, Fuck You We're Drunk!, Triumph (a name already taken by a metal band), and Machine Gun Punk. At a party one night, Eric and friend Aaron Cress suggested the band be named called The Good Neighbor Association (some sort of real estate orginization). Pat then suggested the band be named The Good Neighbor Policy, like the FDR plan for relations with South America in the 1930s. They all agreed to drop the "The" and the name stuck. With the abbreviation GNP, the band sometimes plays under other aliases, such as Guaranteed Naked Party.
Discography
Edit
First demo recorded on 4-track analog at Peninsula Medical, Inc. by Chris Jonsson/Kalen Dodd. 5 songs (3 with vox). Summer 2003.
Studio demo recorded by Patrick Diola at Maritime Garage for free - April 2004. Diola's first recording ever. 4 songs recorded, 1 got lost, released as a 3 song demo: "Strictly Business" (which ended up on a SC Comp called Bombs Over Santa Cruz released by Lorelei Records, "Comin' Up" and "HippyCrits".
In August 2004, GNP went back to Maritime Garage to record a full-length record with Diola and Joe Clements from Lorelei Records. Twelve songs recorded in all, one (their first song ever called the "Butt Rock" song) was to be a secret song. The record was set to release on Lorelei Records, but GNP decided to scrap the project because the drums turned out bad. Three songs ended up on their myspace page, but the rest remains for the band only.
GNP is currently re-recording their full-length record at Compound Studios in Ben Lomond with Clements. The record will be released by Lorelei Records around July 2005.
GNP's first full length record was released on Lorelei Records in November of 2005. A bunch of cool stuff happened as a result including some good reviews (one in French, we still don't know what it says).
GNP finished recording a Fury 66 song called "Why Are We Here" in May of 2007 with Joe Clements at the Compound for an upcoming comp that may never be released. Be on the lookout for that song on a 7" to be released in the near future.
In January of 2008, GNP recorded 6 songs with Joe Clements again. 4 of those songs will be released on an upcoming 7"/EP in 2008. Look out for the others to come out on a split 7" or two.
External links
Edit