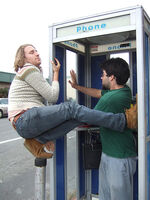 Bird By Snow
is
Fletcher Tucker
, a multi-instrumentalist and home-taper from Northern California. Bird By Snow builds experimental flagships of low-fidelity folk out of gleeful sky-gazing.
With a claw-hammer crash his banjo resounds, echoing through vast expanses of two cord canyons. With haunting croaks and whispers, Fletcher spins his yarn through past incarnations, and psychedelic loss. Tall tales of ghosts, wolves, and inkwells, carry us from that flagship of experimentation to warm, dark pop beaches.
Instumentation
Edit
Tucker plays banjo, electric guitar, acoustic guitar, autoharp, organetta, banjolin, dulcimer, finger chimes, and tape loops.
Collaborations
Edit
Adam Payne, John Garmon, Spencer Owen, Spencer Doran, Matt Longwell and Sean Smith.
Discography
Edit
External links
Edit